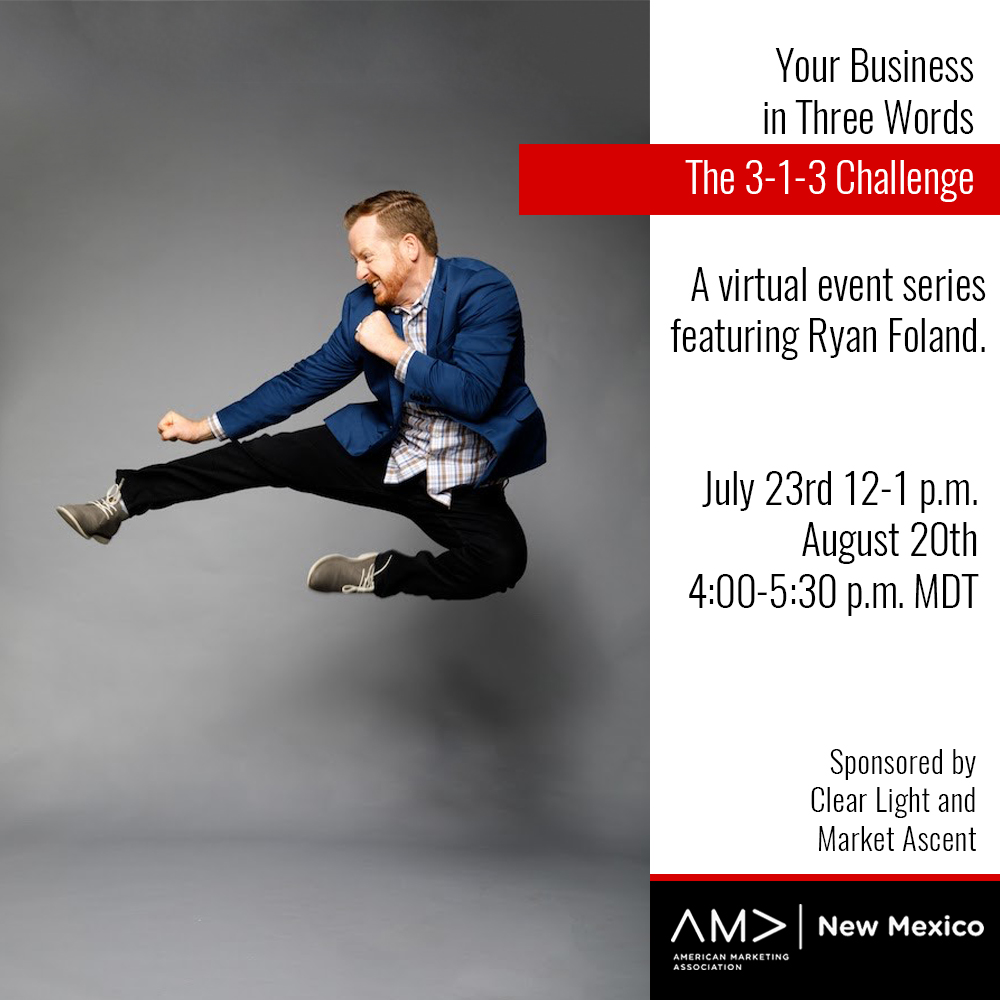 Learning By Design Spotlight: The 3-1-3 Challenge
Read our Learning By Design Spotlight Series and use the insights gained to model success in your own organization.
Today's Spotlight: Your Business in Three Words With Ryan Foland
More and more organizations are using online learning programs to delight their audiences and grow their businesses. According to Forbes, the online learning industry is forecasted to reach $350 billion by 2025, and venture funding in the related EdTech space has increased from roughly one billion dollars from the first half of 2019 to a staggering $11.6 billion in the first half of 2020.
With numbers like these we can expect that online learning will continue to advance in its use, quality, delivery and effectiveness. Brands and learning organizations that are proactively investing in their online offerings will be rewarded as consumers will expect more or won't tune in. The good news is that even though the space is crowded and rapidly growing, many offerings are very much in their infancy when it comes to their sophistication and delivery. There is great opportunity to innovate and stand out with amazing online learning initiatives.

Spotlight Situation
Ryan Foland is a global keynote speaker, author, and brand consultant who teaches people how to build their brand, get featured in publications, and grow their social media following. His clients include New York Times bestselling authors, venture capitalists, and Fortune 500 executives. His book Ditch The Act, helps executives and entrepreneurs navigate the waters of what to do, in the right order, to help them harness the power of vulnerability and authenticity to build a better, more relatable, more profitable brand.
I saw Ryan Foland speak in-person at the 2019 HubSpot INBOUND conference in Boston, and right away I knew I wanted to bring him to New Mexico to speak to our members at the New Mexico American Marketing Association (NMAMA) where I serve as programming director.
What started out as a more typical in-person event ended up being an innovative online event series fueled with great brand building content by one of the most dynamic keynote speakers I've worked with.
Read on to learn the strategies and techniques we used in moving Ryan's keynote presentation online.
Starting With Strategy
Pivoting Ryan's program online started with a focus on how to develop a learning experience that delivered more value to NMAMA members than a more traditional in-person lunch event.
Not only did we want the audience to learn about Ryan's 3-1-3® Method so they can powerfully communicate what they do in as little as three words, we importantly wanted them to experience the power of this framework firsthand with breakthrough moments, peer-to-peer collaboration, and the opportunity to apply what they learned.
Our overarching strategies were to:
Have a hyper-focus on learner engagement.
Leverage both online and offline methods to deliver content.
Select technologies that would add to the experience.
Make the program more memorable by leveraging Ryan's contagious energy and spirit.
Have attendees learn from Ryan and one another.
Designing The Learning Experience
With our strategies guiding us, we doubled-down even more on engagement.
Why?
Because not paying enough attention to driving high learner engagement is one of the biggest reasons organizations fail to meet their online event goals. Specifically, we need to design immersive and interactive experiences that deliver higher value to customers and as a result open up the opportunity to earn and keep their business.
The learning experience we created had four parts with a heightened focus on learner engagement at every stage.
Part One: A Virtual Lunch & Learn
Part one was a more typical lecture format that wasn't typical. From start to finish, Ryan educated the audience while entertaining them and engaging them individually and collectively. Jokes from Ryan and the audience warmed things up, a game show buzzer added to the fun, and Ryan wrapped up the event with one of his signature Ryan Foland raps (pun intended) that underscored the key points and take-aways of the session. Copies of Ryan's book were also given away with winners being selected using an online raffle wheel.
Part Two: We pointed the audience to purchase the book Ditch The Act
Between the first and second events, participants were encouraged to buy Ryan's book Ditch The Act. This worked to connect the workshops and also provided value to the presenter through book sales. Whether participants bought the book, Ryan delivered worksheets that outlined step-by-step guides to building your personal brand, including the 3-1-3 Challenge worksheet. These free tools encouraged learners to engage with the content at a deeper level and apply what they learned, prior to the next workshop.
Part Three: An interactive and immersive online workshop.
Part-three of our series was another live virtual event which was all about putting the 3-1-3 Method into action. The audience was challenged to role-play in real-time in small Zoom breakout rooms using Ryan's framework to explain what they do in three sentences, one sentence, and in three words.
The 3-1-3 itself involves defining the problems you solve, narrowing your specific solution, and strengthening how you stand out by defining your target market. It sounds simple, yet so many businesses struggle with answering the basic question "what do you do?" succinctly, and in a way that drives curiosity in the person asking the question.
The workshop had non-stop interactive discussions and our attendees especially loved having the opportunity to brainstorm, role play, and test out brand messages with their marketing peers.
Part Four: Ryan's 3-1-3 Challenge Podcast.
Everyone who attended the workshop was invited to win a spot on Ryan's 3-1-3 Challenge podcast which features live hot seats that attendees could gain even more insights from regarding how to put Ryan's 3-1-3- framework in action.
Wrapping It All Up
With smart strategy-setting, great content, and by applying best practices in online learning, our event series was a success. We measured success on three key factors:
Attendee engagement
Attendee feedback
Revenue generated
I am pleased to share that we exceeded our goals and powerful learning was delivered. By the end of the program, attendees realized that they could answer the question of "what do you do?" powerfully by being the Jimmy Kimmel of podcasting, the blacksmith of branding, or the sensei of storytelling. If you want to experience the 3-1-3 Challenge for yourself, you can buy a copy of Ryan's book and listen live on his podcast, The 3-1-3 Challenge.
Related Articles:
New Metaari Market Research: Global Edtech Funding Spikes to $11.6 Billion in H1-2020
Forbes: The Rise Of Online Learning
Forbes: E Learning Climbing To $325 Billion By 2025
Research And Markets: Online Education Market & Global Forecast, by End User, Learning Mode (Self-Paced, Instructor Led), Technology, Country, Company
EdSurge: US Edtech Funding Already Nears $1 Billion in First Half of 2019