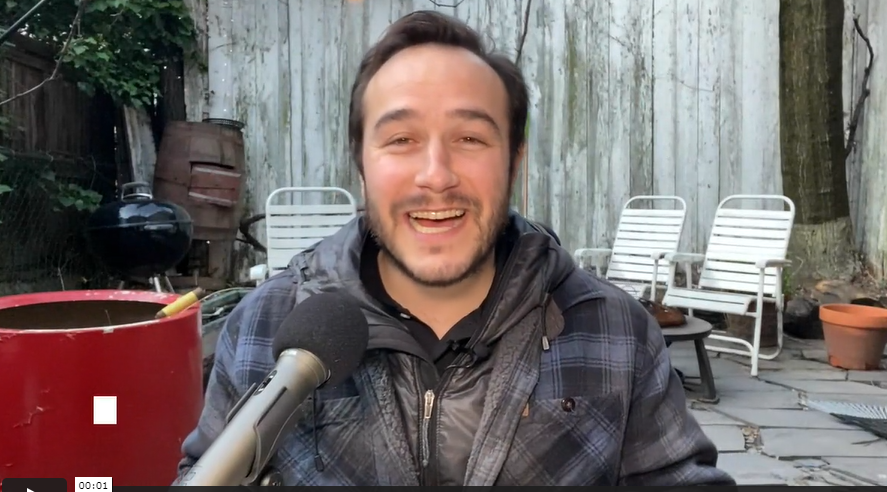 Learning By Design Spotlight: With Gratitude
Read our Learning By Design Spotlight Series and use the insights gained to model success in your organization.
Today's Spotlight: A Gratitude Dinner With Chris Schembra
Have you ever wondered how you can deliver a more meaningful experience online by connecting participants to one another at a deeper level? I have. I often ask myself this question when designing social or collaborative online event experiences. My thinking on this topic expanded when I participated in Chris Schembra's signature gratitude dinner online. Not only did I leave the experience in gratitude for Chris and the conversations he inspired me to have, I was also impressed with how the experience fostered authentic conversations that encouraged participants to bring out the best parts of themselves.
Spotlight Situation
Chris Schembra is the bestselling author of "Gratitude and Pasta: The Secret Sauce for Human Connection," chronicling his adventures as one of the most sought-after dinner hosts in the world. Forbes ranks his book as the #2 book of 2020 to create Human Connection, USA Today calls him the "Gratitude Guru," and Inc. Magazine has named him one of their "Icons and Innovators."
He is the Founder + Chief Question Asker of 7:47, an advisory firm that helps companies give the gift of community and belonging to their VIP clients and partners. They believe that giving gratitude to others is the key to fulfillment, and it's ultimately good for business. We enthusiastically agree.
When Hubspot's INBOUND conference went virtual this year, Chris turned his keynote presentation into a one-of-a-kind online gratitude dinner. He took participants on a journey to learn more about themselves, express gratitude in the process, and use their reflections to make stronger connections moving forward.
When I saw the description of Chris's session, I immediately was intrigued and signed up for it. The experience was beyond what I expected, and I surprisingly ended up shedding a few tears at the end of the event. More on that later.
Starting With The Present
The atmosphere for this event was immediately different from other online events I have attended. When you entered the meeting room, soft music played in the background that calmed and lifted your spirit. Chris was also sitting on his outdoor patio which was a nice surprise for a business event. He welcomed everyone warmly and set the tone for what would follow.
Chris started the session by having us become present in the moment. He had us think about the one word that we were each feeling right now and we shared them. The exercise made us fully present with one other and the experience we were about to have.
Reflecting On The Past
Chris then moved us into small breakout groups so we could each answer the question, "If you could give credit or thanks to one person in your life that you don't give enough credit or thanks to, who would that be?"
I immediately thought of my father who passed away a few years ago. I dismissed the thought though as it might bring up raw emotions. Instead, I spoke about a former boss who is a good friend of mine to this day. In addition to thanking the person we reflected upon in the session, we went deeper and reflected on why we chose the person. Sometimes the person was someone who had wronged or disagreed with us and we talked about how that experience shaped us in a good way. In my case, the person I chose embodied values I admire.
Looking Ahead
Looking to the future, Chris asked us to write down the values of the person we thanked. We reflected upon what those values meant to us and we shared our thoughts with the group. The discussion did several things. For some participants, they wanted to reach out to the person they thanked to share their gratitude with them. For others like myself, it reinforced the values that are important to me and how they embody the best parts of who I am. As Chris started closing out the session, he challenged us to be more intentional in having the values we relate to show up even more in our lives, including in the conversations we have and the relationships we build. He also provided suggestions on how we can make this happen moving forward.
Reflecting On The Experience & Authenticity
After the event ended, I stayed on to thank Chris. I also asked him who he would like to give thanks to right now. He was vulnerable and shared a personal story that moved me. It made me want to share a story regarding my father. I was right in my earlier thinking that it might make my cry to speak about him in public. Reflecting back, I am glad my reservations didn't stop me from sharing.
I told Chris and a few others how I admired and appreciated my dad's sense of family and how I cherished the deep connection he had with my daughter. I also shared one of the most meaningful comments my father ever said to me. My dad was proud of me in general, and one day not too long before he passed, he told me that my daughter was my greatest accomplishment in my life. I reflected more on his comment in the moment and later that evening. I shared what my dad said to my 9 year-old daughter. I hugged her and told her how I agreed with his comment whole-heartedly. That moment with my daughter started a conversation that I will always treasure.
Wrapping Up With Gratitude & Best Practices
I have gratitude towards Chris for the experience he created, for the values it brought to the forefront in my mind, and for the moments it initiated afterward with my daughter.
Creating powerful human connections online is more than possible it can be memorable and long-lasting. I invite you to think about how you can encourage more meaningful connections within your own communities. It's rewarding for everyone involved, and as Chris says, it's also good for business.
If you want to set up a gratitude dinner with Chris or if you would like to buy his book on human connection, you can reach him at 7:47. We also welcome partnering with you in creating your own memorable online experiences.
Wrapping up, below are a few final reflections and best-practices to think about when designing experiences to encourage deeper connections.
Best Practices
Reverse engineer the experience you want to create with the outcomes you want to achieve.
Have a powerful message and design your experience to underscore its meaning.
Focus on creating an environment that invites collaboration.
Be direct with audiences on how to connect at a deeper level.
Guide your audience in a way that ensures the experience you want them to have.
Encourage authenticity.
Related Articles & Information:
7:47 Virtual Dinner Overview
Forbes: Chris Schembra Encourages Leaders To Re-examine Their Relationships
Buy The Book: Gratitude And Pasta